HOME > About World Heritage
About World Heritage
UNESCO World Heritage
World Heritage is ruins, building, or nature that is registered in the World Heritage List based on the World Heritage Convention (official name is "Convention Concerning the Protection of the World Cultural and Natural Heritage" that was adopted in the 17th assembly meeting for UNESCO in 1972.They are treasure for all people that need to be inherited from the past to people living in the present in the world and inherit it to the future generation. It is required to be internationally protected, preserved and inherited to the future.
As of June 2014, there are 1007 World Heritages (779 cultural heritage, 197 natural heritages, and 31 mix heritage) and there are 190 countries are contracting parties of the convention.
Types of the World Heritage
There are three type of the World Heritage, and tangible properties are the subject to it.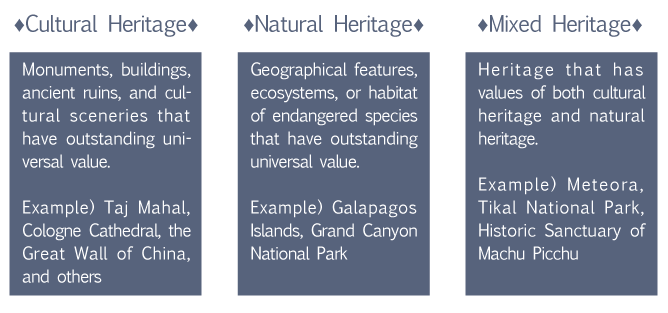 Flow of the Registration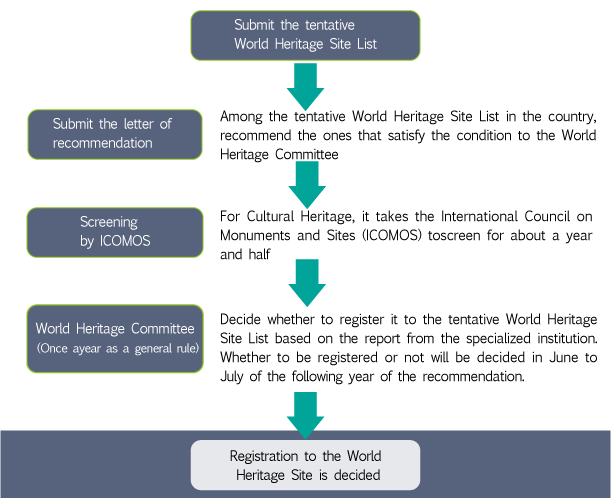 World Heritage in Japan
Japan submitted the acceptance document on June 30th, 1992 and became the 125th contracting country. As of July 2015, the following are the World Cultural Heritage and the World Natural Heritage in Japan.
Buddhist monuments in the Horyuji Area: Registered in 1993 as the Cultural Heritage
Himejijo Castle: Registered in 1993 as the Cultural Heritage
Yakushima: Registered in 1993 as the Natural Heritage
Shirakami-sanchi Mountain Range: Registered in 1993 as the Natural Heritage
Historic Monuments of Ancient Kyoto (Kyoto City, Uji City, Otsu City) : Registered in 1994 as the Cultural Heritage
The Historic Villages of Shirakawa-go and Gokayama: Registered in 1995 as the Cultural Heritage
Hiroshima Peac Memorial: Registered in 1996 as the Cultural Heritage
Itsukushima Shinto Shrine: Registered in 1996 as the Cultural Heritage
The Historic Monuments of Ancient Nara: Registered in 1998 as the Cultural Heritage
The Shrines and Temples of Nikko: Registered in 1999 as the Cultural Heritage
Gusuku Sites and Related Property of the Kingdome of Ryukyu: Registered in 2000 as the Cultural Heritage
Sacred Sites and Pilgrimage Routes in The Kii Moungain Range: Registered in 2004 as the Cultural Heritage
Shiretoko: Registered in 2005 as the Natural Heritage
Iwami Ginzan Silver Mine: Registered in 2007 as the Cultural Heritage
Hiraizumi – Temples, Gardens and Archaeological Sites Representing the Buddhist Pure Land: Registered in 2011 as the Cultural Heritage
Ogasawara Island: Registered in 2011 as the Natural Heritage
Fujisan, sacred place and source of artistic inspiration: Registered in 2013 as the Cultural Heritage
Tomioka Silk Mill and Related Sites: Registered in 2014 as the Cultural Heritage
Sites of Japan's Meiji Industrial Revolution: Iron and Steel, Shipbuilding and Coal Mining: Registered in 2015 as the Cultural Heritage